Apple pie is a classic recipe that everyone should know how to cook. Whether it's a warm slice on a chilly night or a dessert at a family gathering, apple pie never disappoints. Here are two different variations of the recipe.
Recipe 1: Goodtoknow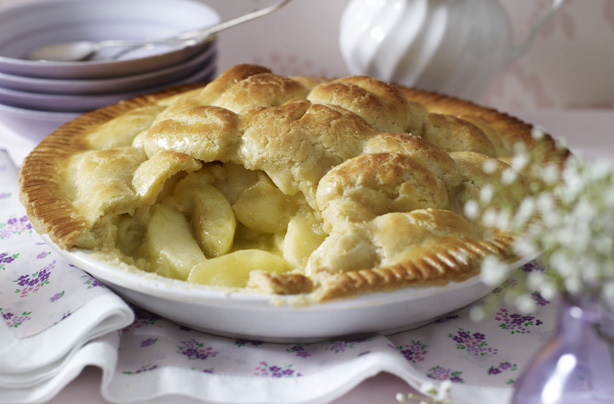 Ingredients:
500g sweet shortcrust pastry
1 egg, beaten
1.5kg Bramley apples, peeled, cored and thinly sliced
100g golden caster sugar
1 tsp cinnamon
2 tbsp plain flour
25g butter, cut into small pieces
Instructions:
Preheat your oven to 200C/400F/Gas 6.
Roll out two-thirds of the pastry on a floured surface and use it to line a 20cm pie dish.
Mix the apple slices, sugar, cinnamon and flour together in a bowl, then spoon the mixture into the pastry-lined dish.
Dot the butter over the apples.
Roll out the remaining pastry to make a lid, place it on top of the pie and press the edges together to seal. Use a knife to trim off any excess pastry, then make a few slashes in the top to let the steam escape.
Brush the beaten egg over the top and bake for 45-50 minutes until the pastry is golden brown and the filling is tender.
Recipe 2: Reddit
Ingredients:
1 9-inch pie crust, unbaked
6 cups thinly sliced, peeled and cored apples
1 tablespoon lemon juice
3/4 cup sugar
2 tablespoons flour
3/4 teaspoon ground cinnamon
1/4 teaspoon ground ginger
1/4 teaspoon ground nutmeg
1/4 teaspoon salt
2 tablespoons butter
Instructions:
Preheat your oven to 425°F.
Mix the apples and lemon juice in a large bowl.
In a small bowl, combine sugar, flour, cinnamon, ginger, nutmeg and salt; sprinkle over the apples and toss to coat evenly.
Fill the pie crust with the apple mixture and dot with butter.
Bake for 40-50 minutes until the crust is golden and the filling is bubbly.
Both of these apple pie recipes are delicious and easy to make. Whether you prefer your apple pies with a tart kick or a sweeter flavor, there's a recipe out there for everyone. So grab some apples and start baking!