If you're tired of shelling out big bucks for non-dairy milk, then it's time to try making your own oat milk at home! It's super quick, easy, and budget-friendly. Plus, you know exactly what goes into it – no preservatives or added sugars. Follow along with this recipe to learn how to make oat milk in just a few simple steps.
What you'll need:
1 cup rolled oats
4 cups water
nut milk bag or cheesecloth
blender or food processor
Instructions:
Combine the rolled oats and water in a blender or food processor.
Blend the mixture until the oats are completely broken down and the mixture is smooth.
Using a nut milk bag or cheesecloth, strain the oat milk mixture to remove any solids.
Pour the oat milk into a jar or pitcher, and store it in the refrigerator for up to five days.
Recipe note:
You can also add a pinch of salt, vanilla, or sweetener like maple syrup or agave to your oat milk for added flavor. Adjust the amount to your preference.
Now that you have your homemade oat milk, what can you do with it? Use it as a substitute for dairy milk in your favorite recipes, in your morning cereal or smoothie, or simply enjoy it on its own.
If you need some inspiration for recipe ideas, check out these tasty oat milk recipes:
Oat Milk Latte:
Ingredients:
1-2 shots of espresso
1 cup oat milk
1 tbsp honey or sweetener of choice
Instructions:
Prepare the espresso and set aside.
In a small pot, heat the oat milk and honey until it's simmering.
Using a frother or whisk, froth the milk until it's light and airy.
Pour the espresso into a mug, and top it off with the frothed oat milk.
Enjoy!
Oat Milk Pancakes:
Ingredients:
1 cup flour
1 tbsp baking powder
1 tbsp sugar
1/2 tsp salt
1 cup oat milk
1 egg
2 tbsp oil or butter
Instructions:
In a large bowl, mix together the flour, baking powder, sugar, and salt.
In a separate bowl, whisk together the oat milk, egg, and oil or butter.
Add the wet mixture to the dry mixture, and stir until just combined.
Heat a nonstick skillet over medium heat. Using a 1/4 cup measure, pour the pancake batter onto the skillet.
Cook the pancakes until golden brown, about 2-3 minutes per side.
Enjoy with your favorite toppings!
Oat Milk Smoothie:
Ingredients:
1 banana
1/2 cup frozen berries
1 cup oat milk
1 tbsp honey or sweetener of choice
Instructions:
Add all the ingredients into a blender, and blend until smooth.
Pour the smoothie into a glass, and enjoy!
Homemade oat milk is a great alternative to dairy milk and a budget-friendly option. Give it a try with these delicious recipes, and enjoy its creamy taste with every sip.
How To Make Oat Milk ($.07 Per Serving) – Real Food Real Deals
realfoodrealdeals.com
oat oats granola
Homemade Oat Milk
theconscientiouseater.com
milk oat homemade recipe recipes drinks theconscientiouseater vegan wallpaper whole glass receita iphone diet substitutes dairy oats chocolate hot jump
Oats The Way: Oat Milk Recipe – F And B Stories
fandbstories.com
oats oat milk recipe way
Oat Milk Recipe – How To Make Oat Milk – Know Your Produce
www.knowyourproduce.com
oat milk recipe oats clean water drain soaking rinse done ready them
Oat Milk – Super Quick, Easy & Budget Friendly – A Virtual Vegan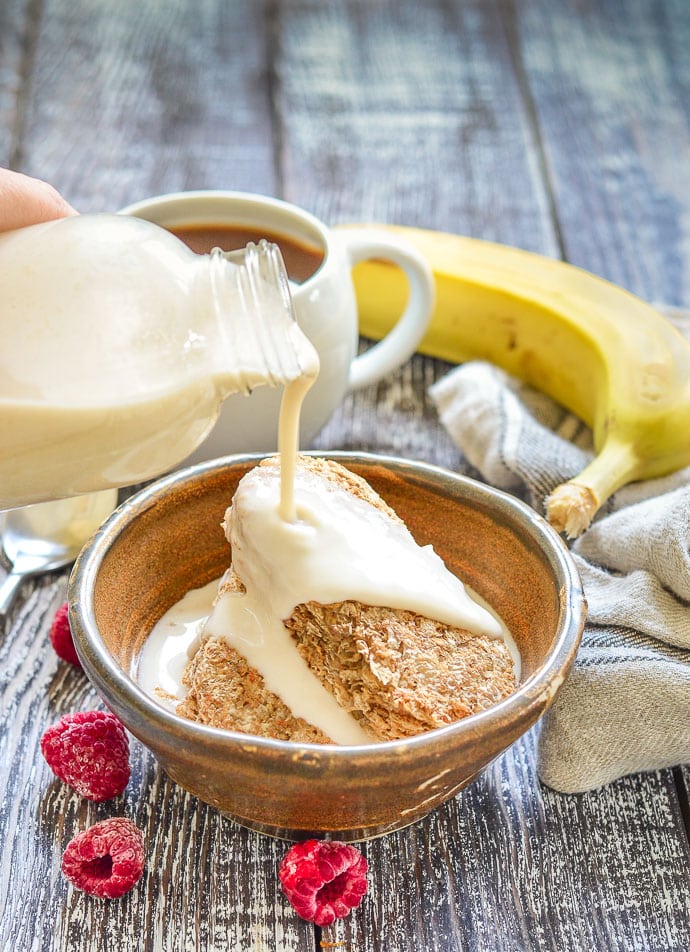 avirtualvegan.com
oat avirtualvegan