Warm apple pie is the perfect treat for the fall season, and what's better than making it with your own homemade apple pie filling? With just a handful of ingredients and some simple steps, you can have a delicious apple pie that will be the talk of the town. Here's how you can make your own apple pie filling at home:
Apple Pie Filling
Start by gathering the following ingredients:
6-7 cups of thinly sliced apples (peeled and cored)
1 cup granulated sugar
1/4 cup cornstarch
1 tsp ground cinnamon
1/4 tsp ground nutmeg
1/4 tsp salt
1 tbsp lemon juice
1 tbsp unsalted butter
Instructions
1. Preheat your oven to 375°F.
2. In a large bowl, mix together the sliced apples, granulated sugar, cornstarch, ground cinnamon, ground nutmeg, salt, and lemon juice.
3. In a saucepan, melt the unsalted butter over medium heat. Add the apple mixture to the pan and cook for about 10 minutes, stirring frequently.
4. Once the mixture has thickened, remove it from the heat and allow it to cool for a few minutes.
5. Take a pie dish and line it with your prepared crust. Pour the apple mixture into the crust.
6. Place the pie in the oven and bake for about 45 minutes to an hour, or until the top is golden brown and the filling is bubbling.
7. Once the pie is done, remove it from the oven and allow it to cool for at least 20-30 minutes before slicing and serving.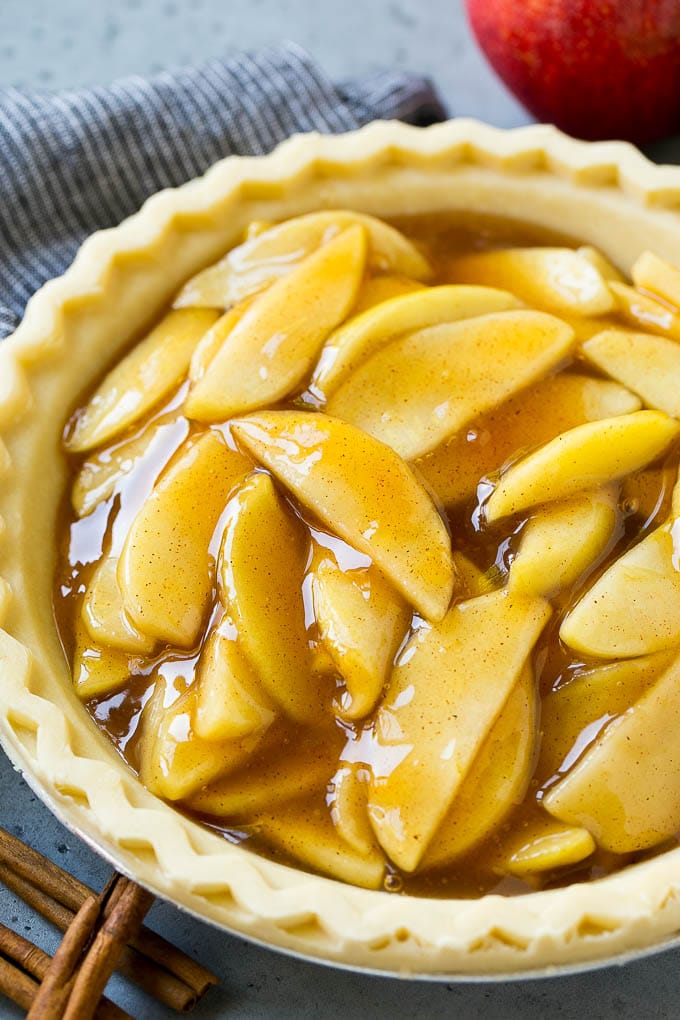 Enjoy your delicious homemade apple pie with a scoop of vanilla ice cream or a dollop of whipped cream for the ultimate treat.
Variations
Want to add some extra flavor to your apple pie filling? Here are some variations that you can try:
Add a dash of vanilla extract to the apple mixture.
Sprinkle some chopped pecans or walnuts over the top of the pie before baking.
Replace the granulated sugar with brown sugar for a richer, more caramelized flavor.
With some simple ingredients and easy steps, you can make your own apple pie filling at home and impress your friends and family with your baking skills. So why not give it a try and see how delicious your homemade apple pie can taste?