If you're looking for a delicious dessert that won't ruin your diet, look no further than this amazing sugar-free apple pie recipe! Not only is it absolutely delicious, but it's also incredibly easy to make.
Ingredients:
6 cups thinly sliced peeled tart apples
1 teaspoon ground cinnamon
1/4 teaspoon salt
1/2 cup unsweetened apple juice
1/2 cup Splenda granular
3 tablespoons cornstarch
1/4 cup cold water
1/2 cup all-purpose flour
1/2 cup whole wheat flour
1/2 cup quick-cooking oats
1/2 cup unsweetened applesauce
1/2 cup canola oil
1/4 cup honey
1/4 teaspoon salt
Instructions:
1. Preheat your oven to 375°F (190°C).
2. In a large bowl, combine the sliced apples, cinnamon, and salt. Toss to coat.
3. In a small saucepan, combine the apple juice and Splenda granular. Bring to a boil, then reduce the heat and simmer for 5-7 minutes, or until the mixture has reduced to about 1/2 cup.
4. In a small bowl, whisk together the cornstarch and cold water. Slowly pour the cornstarch mixture into the simmering apple-juice mixture, stirring constantly. Cook and stir for 1-2 minutes, or until the mixture has thickened. Remove from heat and set aside.
5. In a medium bowl, combine the all-purpose flour, whole wheat flour, oats, applesauce, canola oil, honey, and salt. Stir until the mixture is crumbly.
6. Press half of the flour mixture into a 9-inch pie dish. Spoon the apple mixture on top of the crust. Pour the apple-juice mixture over the apples. Top with the remaining flour mixture.
7. Bake for 45-50 minutes, or until the crust is golden brown and the filling is bubbly. Allow to cool completely before serving.
Serving:
Enjoy a slice or two of this delicious sugar-free apple pie, and don't forget to share with your friends and family! It's a perfect dessert for any occasion, and will leave everyone feeling satisfied without any added sugar.
Image 1: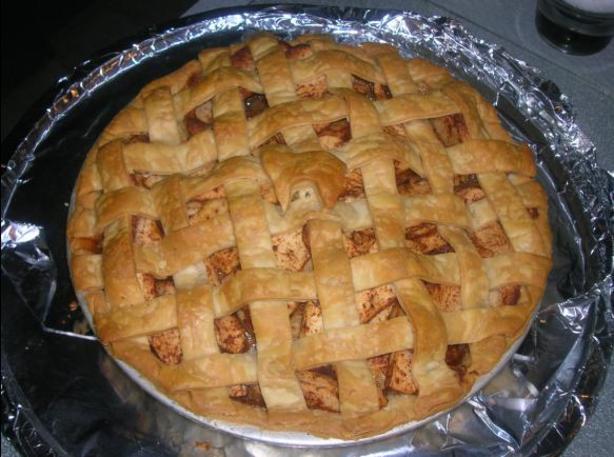 Image 2: