Nothing beats the smell of a freshly baked Granny Smith apple pie! This classic dessert is a timeless treat that is perfect for any occasion. Whether it is for a family gathering or just a cozy night in, apple pie never fails to satisfy. And with this recipe, you can make your very own delicious pie from scratch!
Granny Smith Apple Pie
Ingredients:
2 cups all-purpose flour
1 teaspoon salt
3/4 cup shortening
1/2 cup cold water
6 cups thinly sliced, peeled Granny Smith apples
3/4 cup sugar
1 tablespoon lemon juice
1 teaspoon ground cinnamon
1/4 teaspoon ground ginger
1/4 teaspoon ground nutmeg
2 tablespoons butter or margarine
Instructions:
In a large bowl, mix together flour and salt. Cut in shortening until mixture resembles coarse crumbs. Gradually add water, tossing with a fork until dough forms a ball.
On a lightly floured surface, roll out half of the dough to fit a 9-in. pie plate. Transfer pastry to pie plate. Trim even with the edge.
In a large bowl, combine the apples, sugar, lemon juice, cinnamon, ginger and nutmeg; toss to coat. Spoon into crust. Dot with butter. Roll out remaining pastry to fit top of pie. Place over filling. Trim, seal and flute edge. Cut slits in top. Cover edge loosely with foil.
Bake at 375° for 25 minutes. Remove foil and bake until crust is golden brown and filling is bubbly, 20-25 minutes longer. Cool on a wire rack.
Another Popular Recipe: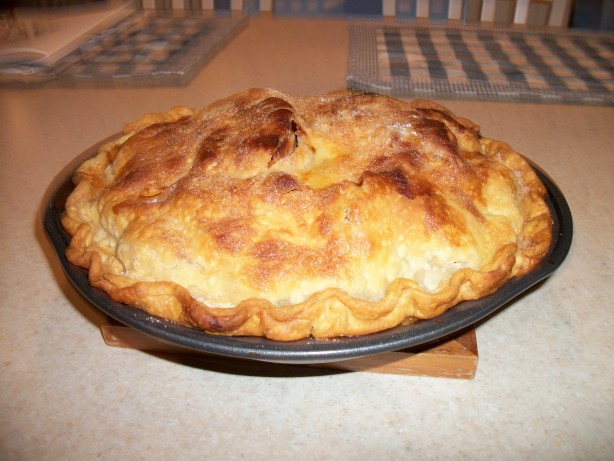 Ingredients:
1 pastry for a double-crust 9-inch pie
1/2 cup unsalted butter
3 tablespoons all-purpose flour
1/4 cup water
1/2 cup white sugar
1/2 cup packed brown sugar
8 Granny Smith apples – peeled, cored and sliced
Instructions:
Preheat oven to 425 degrees F (220 degrees C).
Melt the butter in a saucepan. Stir in flour to form a paste. Add water, white sugar, brown sugar, and bring to a boil. Reduce temperature and let simmer.
Place the bottom crust in your pie dish. Fill with apples, mounded slightly. Cover with a lattice work crust. Gently pour the sugar and butter liquid over the crust.
Bake 15 minutes in the preheated oven. Reduce the temperature to 350 degrees F (175 degrees C). Continue baking for 35 to 45 minutes, until apples are soft.
No matter which recipe you choose, you can enjoy the sweet and tart flavors of the Granny Smith apples in a delicious pie. Serve it warm with a scoop of vanilla ice cream for the ultimate dessert experience. And don't forget to share with your loved ones!