Y'all, you gotta try this Chicken Adobo recipe and this Mexican Pollo En Adobo recipe! These dishes are straight up fire and will have your taste buds doing the electric slide. And don't worry, I got y'all with the step by step instructions on how to create these bomb dishes.
Chicken Adobo Recipe
Ingredients:
1 1/2 lbs bone-in, skin-on chicken thighs
1/2 cup low-sodium soy sauce
1/2 cup apple cider vinegar
1/2 cup chicken broth
1/4 cup brown sugar
1 head garlic, minced
1 tbsp black peppercorns
3 bay leaves
Cooked white rice and chopped green onions, for serving
Directions:
In a large pot, combine soy sauce, apple cider vinegar, chicken broth, brown sugar, garlic, peppercorns, and bay leaves.
Place chicken thighs into the pot and bring everything to a boil over medium-high heat.
Reduce heat to low and let everything simmer for 35-45 minutes or until chicken is cooked through and tender.
Remove chicken from the pot and set aside.
Increase heat to high and let adobo sauce boil for 10-15 minutes or until sauce is reduced and thickened.
Return chicken to the pot and let it simmer for another 10-15 minutes or until chicken is heated through and coated in sauce.
Remove from heat and serve over cooked white rice. Garnish with chopped green onions.
Mexican Pollo En Adobo Recipe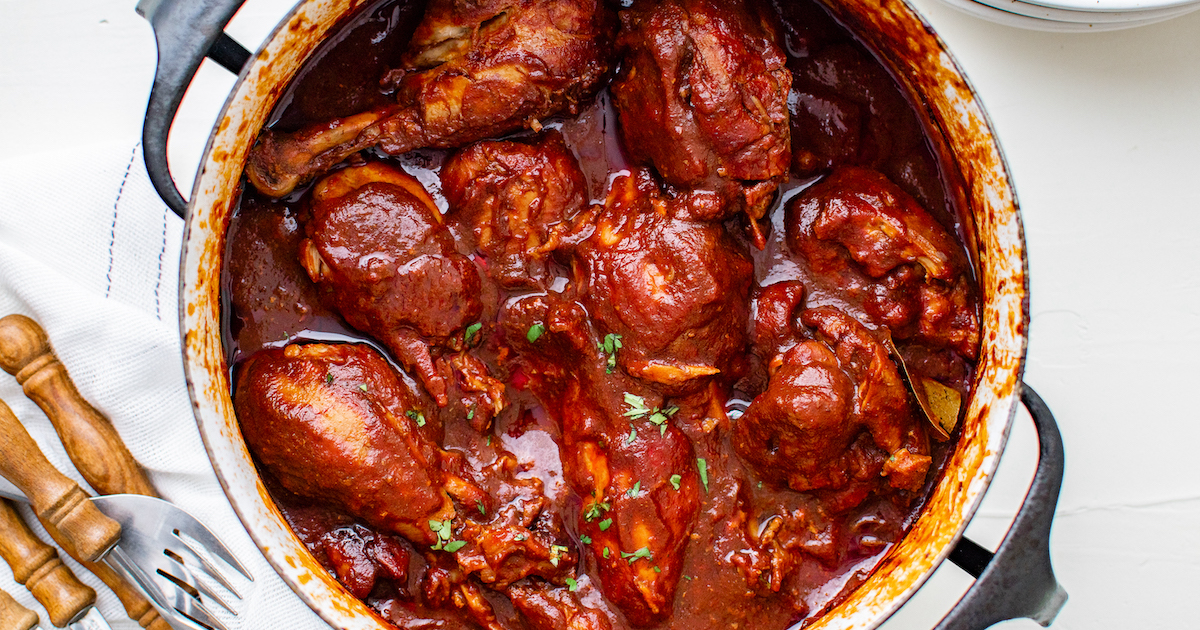 Ingredients:
4 dried guajillo chilies, stems and seeds removed
4 dried ancho chilies, stems and seeds removed
1 cup boiling water
2 tbsp olive oil
5 garlic cloves, minced
1/2 tsp cumin
1/2 tsp dried oregano
1/2 tsp salt
1/2 tsp black pepper
1/4 cup orange juice
1/4 cup white vinegar
1/4 cup chicken broth
8 boneless skinless chicken thighs
Directions:
Preheat oven to 375°F.
Place guajillo and ancho chilies in a bowl and pour boiling water over them. Let them soak for 10-15 minutes to soften.
In a large skillet, heat olive oil over medium heat. Add minced garlic and cook for 1 minute or until fragrant.
Add cumin, oregano, salt, and pepper to the skillet and cook for an additional minute.
In a blender, puree soaked chilies, orange juice, white vinegar, and chicken broth until smooth.
Add puree to the skillet and bring it to a boil.
Add chicken thighs to the skillet and spoon sauce over each piece to coat.
Transfer skillet to the oven and bake for 25-30 minutes or until chicken is cooked through.
Remove from oven and let it sit for 5 minutes before serving.
There you have it, two delicious and easy to make dishes that will have your taste buds singing. Enjoy y'all!